Audio
Green-Shoot's audio team is ready to start work on your project. Our writers, composers, journalists, musicians, producers, engineers and voices draw on decades of experience producing top-quality professional audio.
Voices

Voices We provide professional voice artists for any tone and style, including native-speakers from across the world.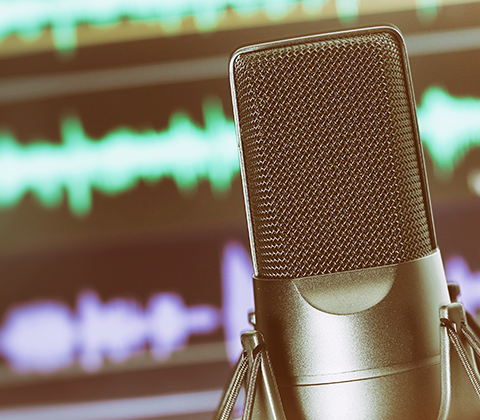 ---
eLearning – our speciality. It's what we've been doing since day one, working with industry giants such as Pearson, SkillPill, Walkgrove and others.
Narration for animation – With script-checking and world-class voice work, we'll help communicate the right message to your audience.
Dramatised scenarios – Talented voice actors, broadcast-quality sound engineering, editing and sound effects.
Multi-lingual – Exclusively native-speaking voices in practically every language under the sun.
---
Sound Effects and Sound Design – A huge library of effects, voices and original compositions to bring your narrative to life.
Call us to discuss your project
Sound design
SFX, original and library music and audio creatively mixed by our sound engineers.
Music Composition
Adapted precisely to your needs, employing talented and experienced composers versed in a range of styles.
---
Virtual Choir – Bring your remote choir together through video.
Call us to discuss your choir's project
Music Video - Nuestra
Filmed remotely by each singer and assembled in a studio with a focus on audio production for a professional choral experience.
---
Podcasting – Our team of podcast and radio professionals create shareable and engaging downloadable audio.
BooksPodcast – A series of interviews with authors, researched, written and presented by Tim Haigh.
DrinksPodcast Video/Audio show covering developments in the drinks industry, presented by Huw Price and Johnny Mindlin..
Round Table Discussion – Podcasts commissioned by Boots Pharmacy in a conversational style, featuring a Boots pharmacist and real patients.
Interview – Journalistic podcasts for Beermat Radio, in association with the FT and Coutts Bank.
Magazine Show – Well informed and exhaustively researched, paced and pitched for the audience.
Weekly Chat – Casual tone with phone-in elements, created for Sunshine Garden Centre.
Newsletter – Accessible and convenient, we adapt your regular e-newsletter into an audio-only podcast.
Podcast ident – Impactful stings, jingles, intros and outros produced for the likes of Arts Council England.
---
Various – things that don't really fit in anywhere else.
Board-game audio – in this case for a Murder Mystery dinner game
Live streaming events and conferences – Press-briefing for the Lancet.